Frodo Sanders
is a brown dog who debuted in the fanfiction
The Dance
, where he helped
Maddie
try to ruin the dance. He is a very nice friend, and has a crush on Maddie. Frodo likes being with friends, and once got stuck at an airport with them after
an accident
. He gets a lot of advice from his "punk rock" older brother, Fido Sanders. He is also one of 20 contestants in the fanfiction
Survivor Gumball Island
.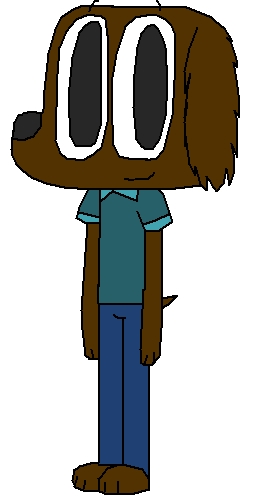 Appearance
Edit
Frodo is a dark brown dog . He has a blue-collared shirt and blue jeans. He doesn't wear any shoes.
Personality
Edit
Frodo is an average student at school, getting normal grades and never really getting in trouble. But that doesn't mean that he's a nerd at all. If anything, after school he's a true daredevil. Frodo hates that he's so good at school and wishes that he could be a lot more like Gumball than Bobert. Bobert really does think that he's Frodo's role model, but this disgusts Frodo even more.
Gumball Watterson
Frodo is a very close friend of Gumball's. He doesn't think of him as weird or annoying like his other friends , and this opinion never seems to change. They are pretty close, and sometimes hang out in school. But during summer or weekends, Frodo is around Gumball whenever he can be.
Darwin Watterson
Frodo and Darwin never really have active conversations or such like he and Gumball. They seem to enjoy each others' company, however, but express it in actions rather than words.
Skylar and Frodo are pretty close friends when around each other. He says that she's pretty cool.
Maddie is Frodo's ex-girlfriend. Frodo and Maddie dont interact much, since he tinks she talks to much.